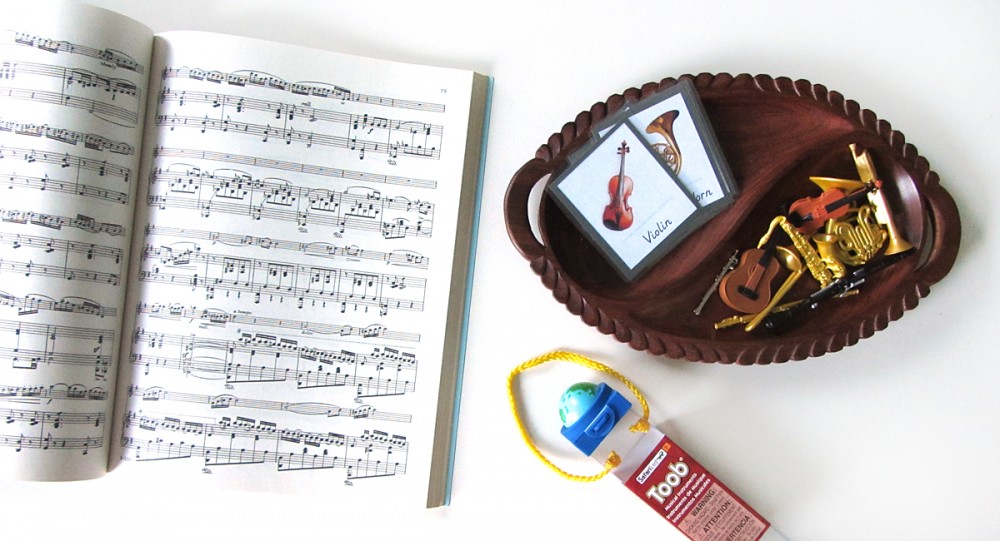 The giveaway is now closed. Thanks for playing!
Jax and I will be starting a music unit in homeschool this fall, so when I came across this Musical Instruments TOOB by Safari LTD I had to get them!
Our family has always had a great love of music. My brother and I were both "band geeks" throughout our school years. (Though I find nothing geeky about music!) I played the oboe, and still have mine. I was also in the marching band, playing cymbals in the drum line. I married a DJ and we've surrounded Jax with music since before he was born. He adores dancing and singing. Anything we can put in a song he learns faster. I hope that providing him with a solid base of knowledge in music fundamentals now will help cultivate a lifelong love.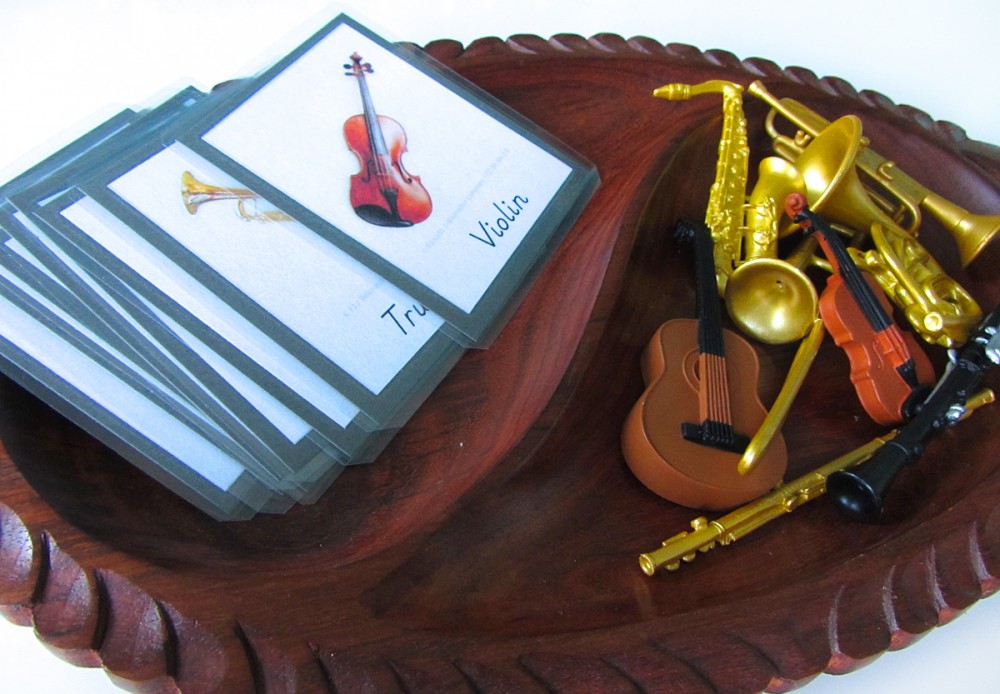 Disclosure: I purchased this Safari Ltd TOOB on my own, but Safari Ltd kindly is providing the winner of this giveaway with a Musical Instruments TOOB. All opinions expressed are my own.
Musical instruments are beautiful to look at! They definitely capture a child's attention. And combined with learning about the sounds that they make, you have a learning opportunity that is all fun!
The Safari Ltd Musical Instruments TOOB contains: Trombone, Flute, Saxophone, Classical Guitar, French Horn, Clarinet, and Trumpet. Strike up the band!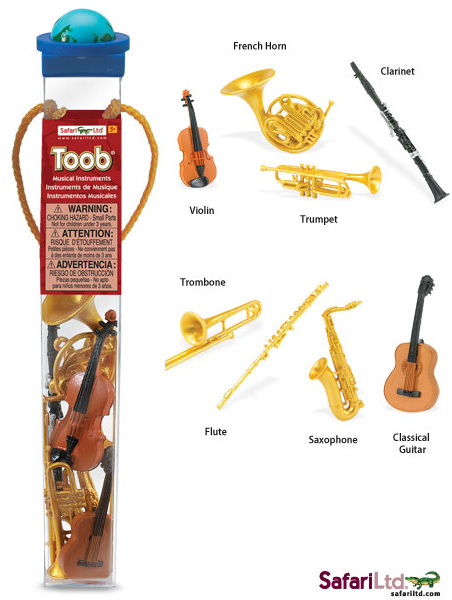 Safari Ltd TOOBS are collections of individually hand painted miniature replicas featuring vibrant colors, fine, professional sculpting, and accurate detail. They are available in dozens of themes, and each set comes in a reusable acetate tube that snaps open and closed for easy storage. The tube also has a spinning globe on its cap. TOOBS are perfect for educational projects, traveling, collecting, and imaginative play.
Safari Ltd® is a family-owned, educational toy company whose mission is to teach children the importance of nature and its conservation through the joy of play. With more than 1,000  hand-painted products ranging from mythical creatures to famous landmarks, learning meets fun with Safari Ltd.

Montessori Musical Instruments 3-Part Cards
In the Montessori method, 3-part cards are an essential tool that can follow your child through multiple levels of development. They can be used in any subject to aid in adding vocabulary, learning to sort/classify, reading practice and so much more. Three-part cards are made up of two photos – one with a label, one without – as well as a separate label. Younger children start with the labeled card to help them learn the vocabulary. One of the best ways to use them is with small objects that match the photos. Older kids can work with the unlabeled card, matching the correct words or writing their own.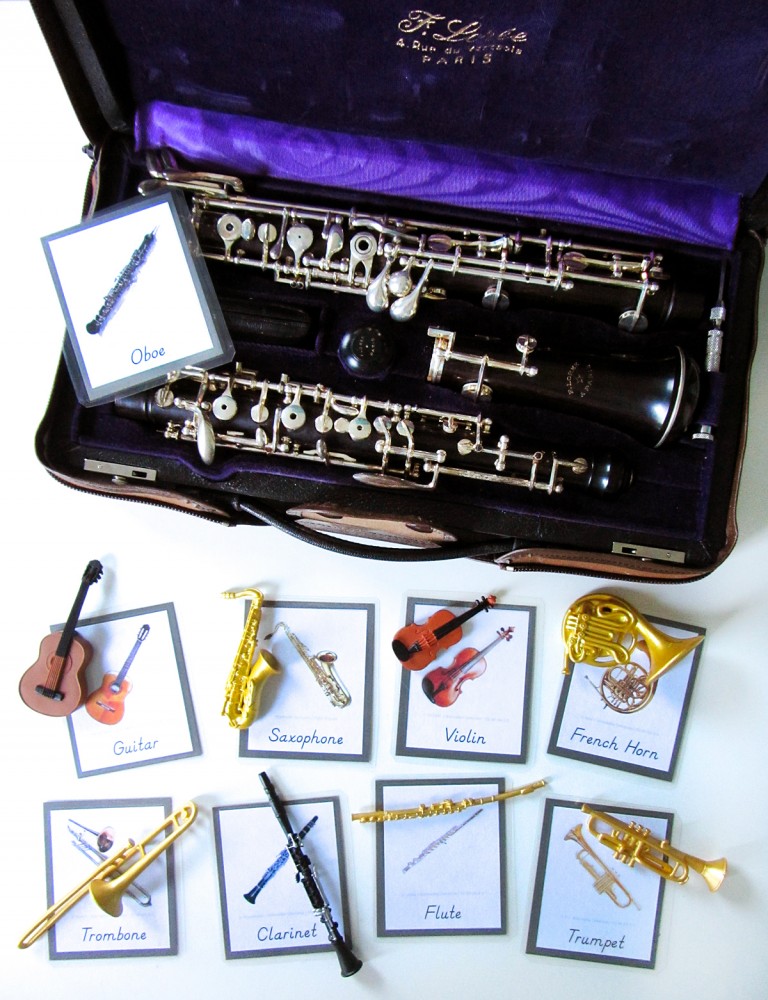 I have created a set of free musical instrument 3-part cards to correspond with Safari Ltd's Musical Instruments TOOB. Because I had room for one more card on my printout, I included an oboe. I used an oboe necklace charm
(and my real oboe!) for matching. You could set that card aside when doing object matching.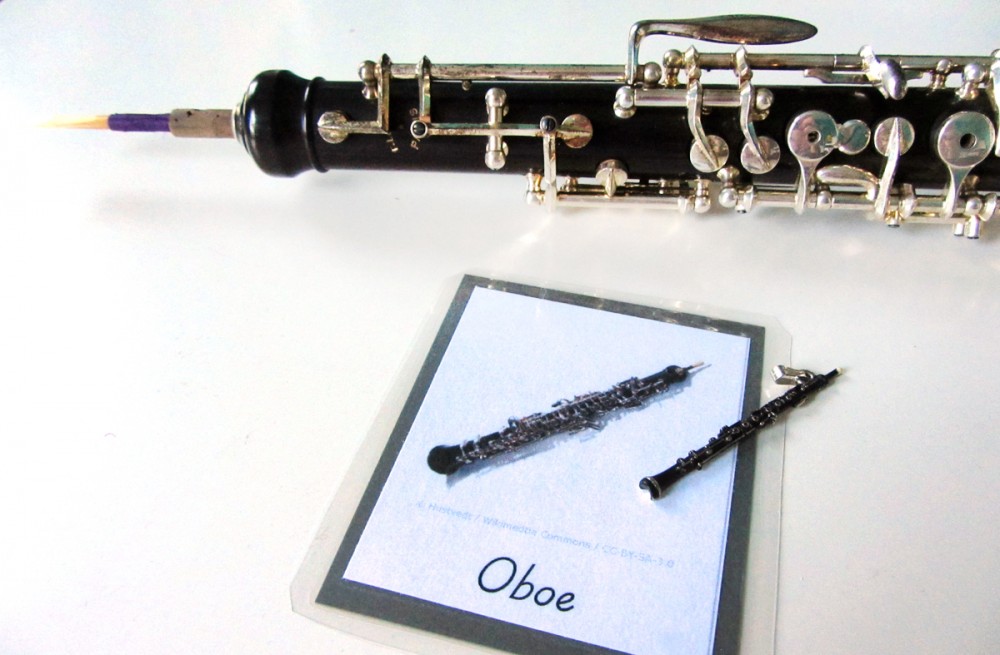 Click here to download my free pdf file to create your own. To make mine, I cut them out, glued them to charcoal gray card stock (this is simply a color I chose to assign to all my future music collateral) then laminated them. It makes them shiny and strong. I really love my laminator – as everyone told me I would!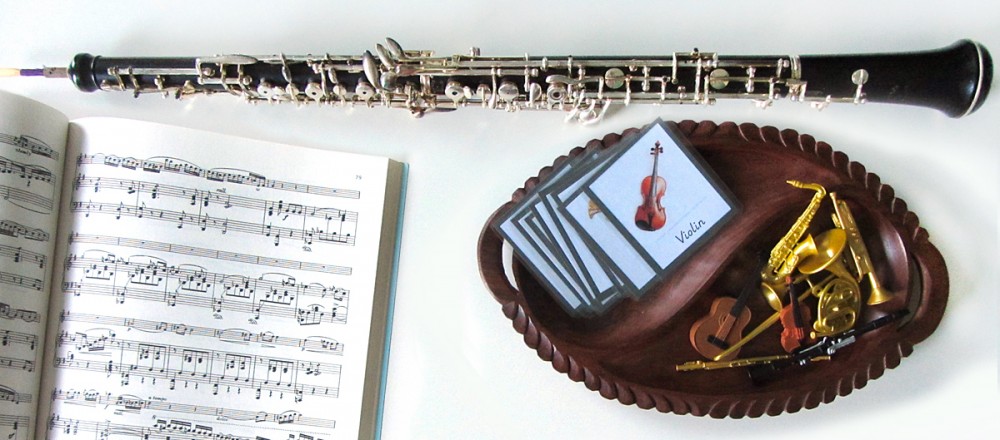 Musical Instruments and Their Sounds
Here is a collection of video links you can play to listen to each instrument's sound and learn more about them: Trombone, Flute, Saxophone, Classical Guitar, French Horn, Clarinet, and Trumpet. (And Oboe!)
Bookmark this page to come back to when you are studying instruments with your child.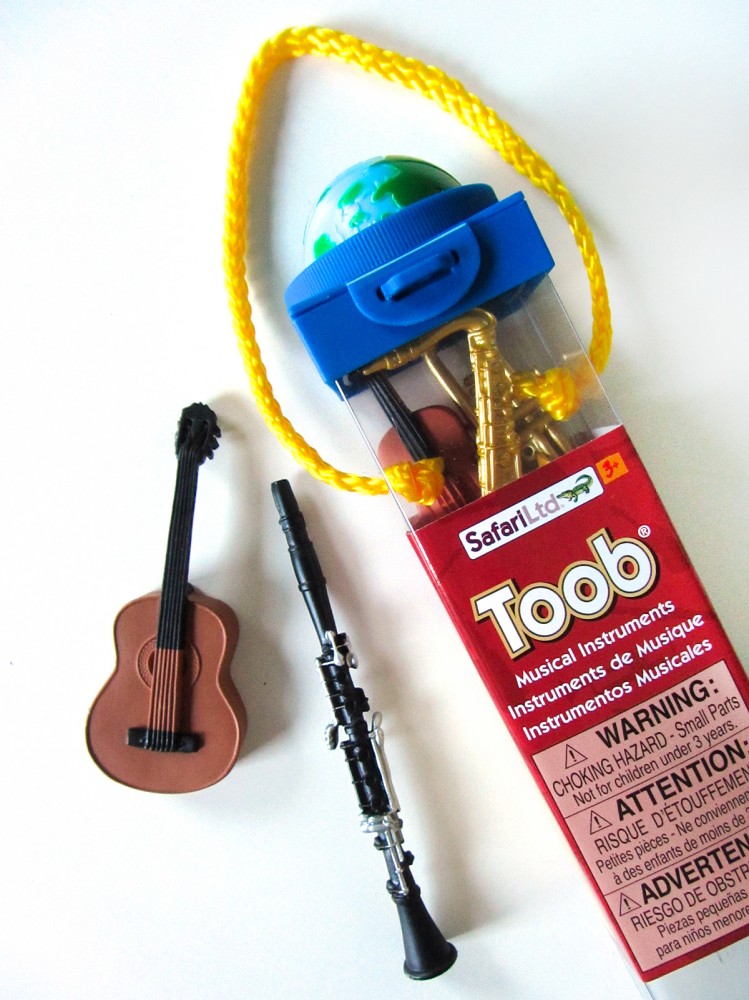 Musical Instruments TOOB Giveaway



1 lucky winner from the US will win the Safari Ltd Musical Instrument TOOB (ARV $12). If you a a follower of Safari Ltd on Facebook, Twitter, Pinterest, YouTube or Google+, they will throw in a bonus prize!
Who is Eligible:
This giveaway is open to anyone 18 and older living in the US. Safari Ltd. will pay for shipping the prize to you.
To be eligible, leave a mandatory blog comment below telling me why you'd like to win the Safari Ltd Musical Instruments TOOB. After you've commented, be sure to click "enter" on the Rafflecopter form to open up the additional entry options. Enter as many ways as you'd like, once you've completed the mandatory blog comment. If you are already a follower of Safari Ltd or Imagine Our Life, you can still enter via that option by verifying your username!
If you need help with Rafflecopter here is a link for a quick tutorial video. At times, the Rafflecopter form can take a minute to load on the page.
The giveaway closes 12:00 am EST on Tuesday, September 3.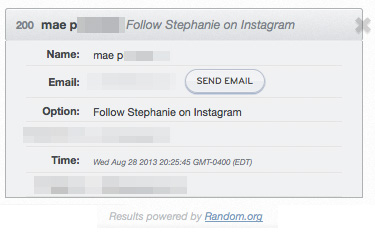 Congrats to our random winner, Mae P.!
Good luck!
Here is a Pinterest-ready image for you! Find me on Pinterest @imagineourlife. Find Safari Ltd on Pinterest @safariltd.
This post is linked up to Montessori Mondays. Please pay it a visit for lots of great Montessori and homeschool ideas!