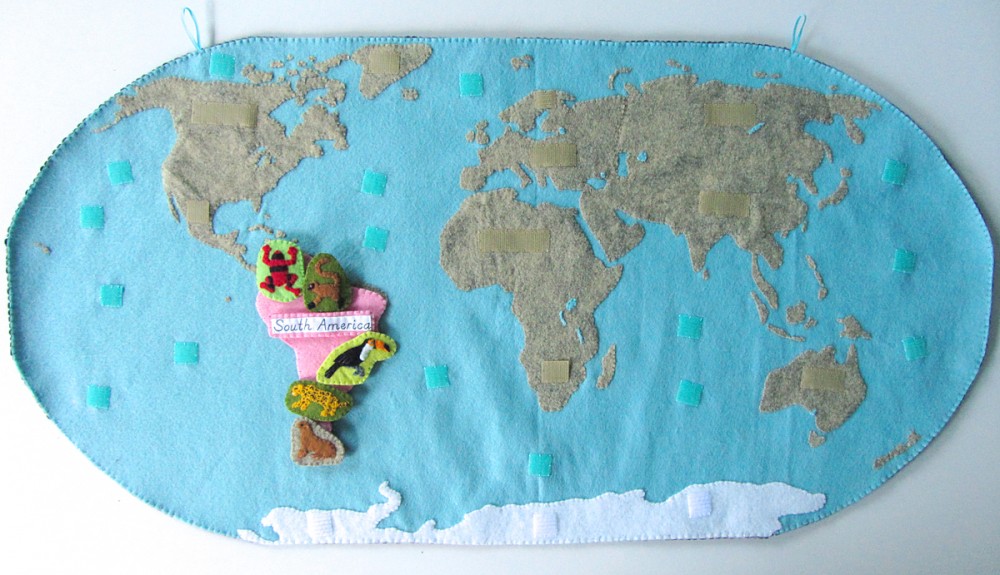 If you haven't been introduced to our Montessori wall map and quiet book yet, you can read all about it here. This post is for the continent of South America! Every continent (and the oceans) will have landmarks and animals. Some, like Europe, have more landmarks than animals. South America has all animals, as it has so many great ones to choose from!
Overview and Map Patterns • Africa • Antarctica • Asia • Europe North America • Oceans • South America
A quick note: Do you have a website that fits in with our readers' interests: sewing, felt, homeschool or Montessori? I am trying out a new sponsor banner system and I have my 125×125 spots open for free swaps! There are currently 3 spots left, so please visit the Sponsor page to read more! Check it out to the left! Thank you for the help!
Those of you who follow along on Facebook or Instagram have been seeing all the fun South American animals I've sewn. I love that there were some brighter colors, thanks to the rainforest animals! I made: a poison dart frog, a toco toucan, a spider monkey, a jaguar and a sea lion.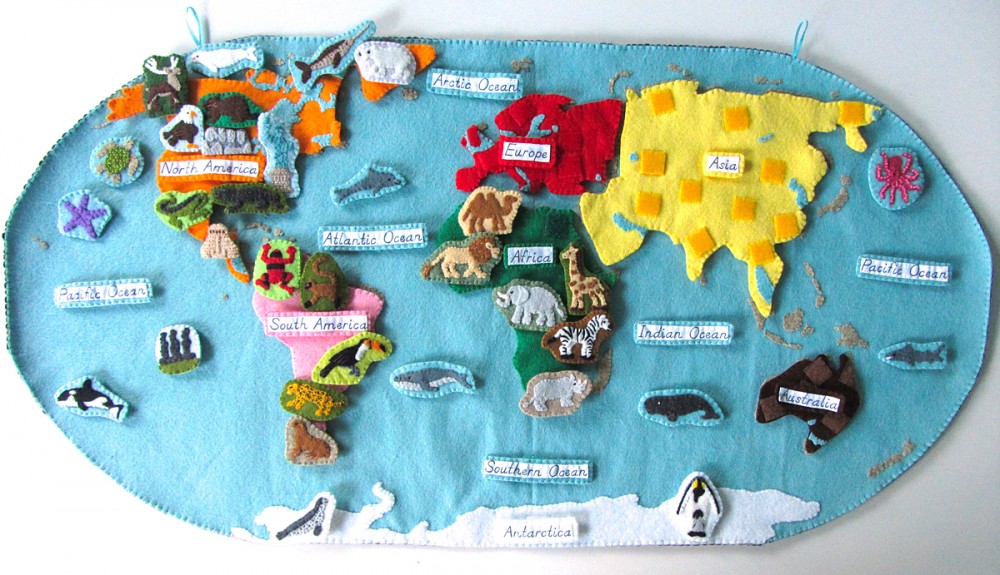 I want to say a quick thank you to Libby A. for the surprise off of Jax's Amazon wishlist! I use his list to bookmark school and craft items until I am able to get them. I'd added some trims I need for Jax's robot Halloween costume (which will be featured here!) and they arrived in the mail to us this week! Thank you!! For more ways to contribute to this site, visit my support page.

Materials I Used
The Pattern (see the first post for the main patterns) Felt from American Felt & Craft – big apple [red], orange juice [orange], gold nugget [gold], limeade [lime green], cilantro [olive green], stone [taupe]  doe [brown] elephant [med gray], white and black. Hook & Loop – I used white snag-free Velcro
on the backs of all these pieces and pink hook & loop (loop only) on the front of the South America puzzle piece. My pink hook & loop was store brand at Joann's but you can find all colors here. Felt glue
to tack down the pieces before sewing, printer fabric
for the continent label, embroidery floss in colors to match the felt and micro tip scissors
.
Sewing the Pieces
South America: (Felt used: bubble gum pink) For the South America continent puzzle piece, I sewed down pieces of pink loop Velcro. On the back, I sewed a strip of white snag-free Velcro to correspond with the Velcro in the quietbook. I finished it by sewing the two sides together around the edge with a blanket stitch. Label: (Felt used: bubble gum pink) For the continent label, I folded under the edges (just a tiny bit to hide the rough edges) and creased it with my nails. The printer fabric held the folds nicely without ironing. Then I stitched the label to some white felt and trimmed it down to be a border. I cut a matching felt rectangle for the back, sewed snag-free Velcro to it and then sewed both sides together.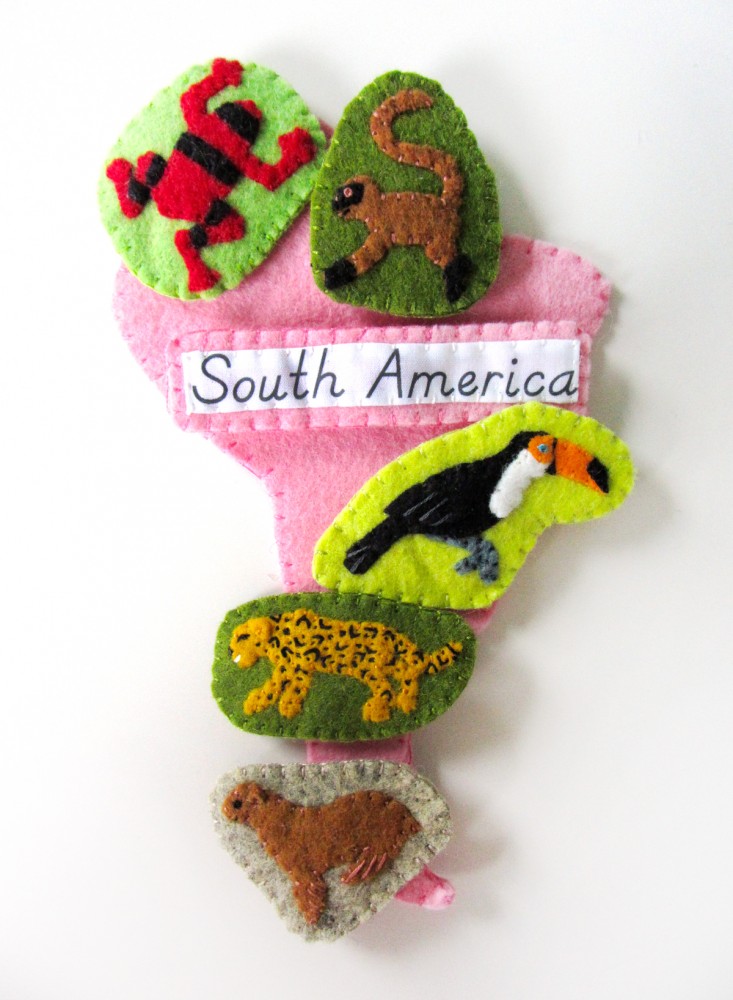 For all of the animals, I started by gluing the pieces down to a scrap of background felt with a very light amount of felt glue. I glue multiple animals at a time to give them time to dry. I sewed them down, trimmed the background and cut a matching backing piece. I sewed snag-free Velcro to the back and sewed both sides together with a blanket stitch. Poison Dart Frog: (Felt used: big apple red for the body, black for body details and limeade lime green for the background) I started by gluing down the red body, then gluing the strips on top. I sewed around all the edges. I matched my frog to the one in the Safari Ltd Rainforest Toob
, which our animal encyclopedia
says is Lehman's Poison Dart Frog. You could make yours any color, especially if you have the Frogs and Turtles Toob
. (My 3-part card is not a red Lehman's. I never use photos without permission and I was unable to find a photo I could use of one. But the photo I took of a Golden Poison Dart Frog at the aquarium makes for a fun lesson where we can match them to our book.)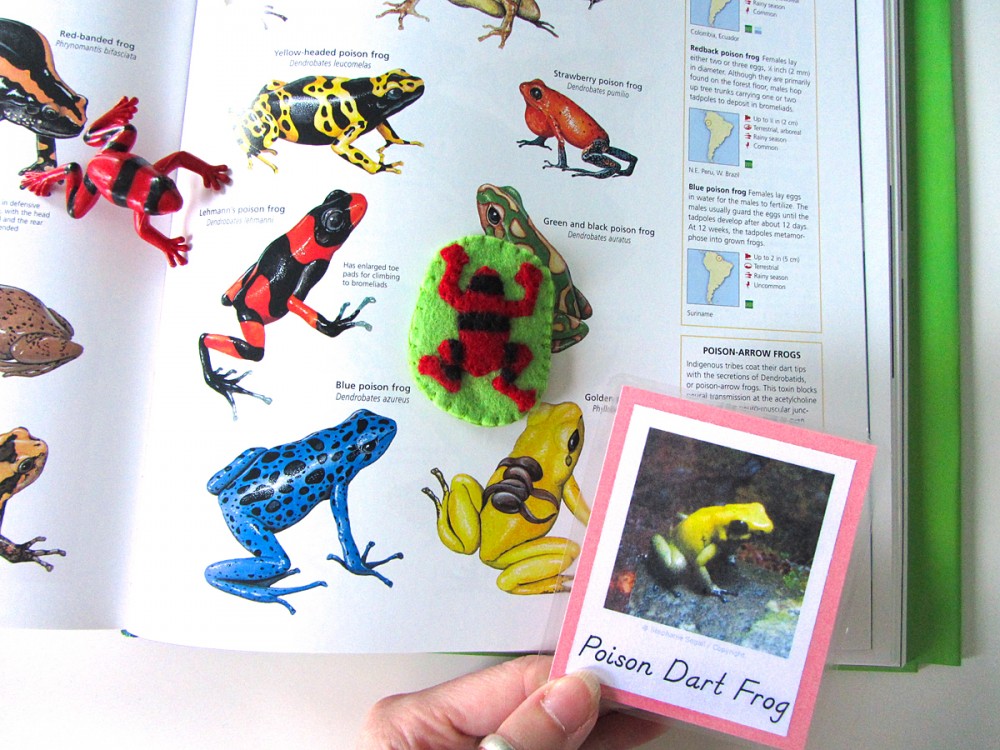 Spider Monkey: (Felt used: doe brown for the body, black for body details and cilantro olive green for the background) I glued the brown body of the spider monkey down first, then his hands, feet and face. I sewed all around the edges. I gave him French knot eyes, a little brown stitch for his nose, and a long black stitch to make an open mouth. Toco Toucan: (Felt used: black for body, orange juice for the beak,  limeade for the background and white) I first glued down her orange beak and gray leg, then her black body and wing. I glued the white chest on top and then the orange eye area. On top of the beak, I added the black felt piece. I sewed around all the edges then I gave her a bright blue French knot eye. (Their eyes are not really blue – that is a ring of blue skin around their black eye.) On her wing and tail, I made long straight stitches to show the feathers.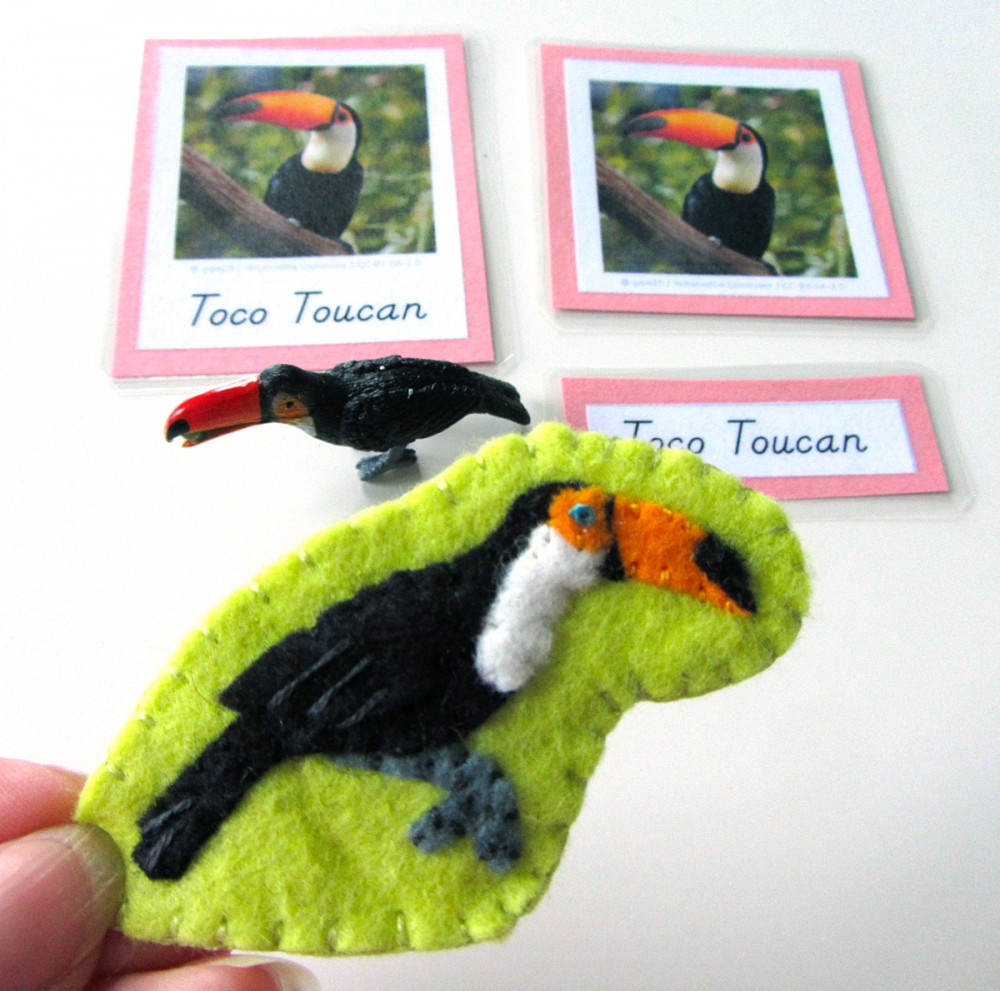 Jaguar: (Felt used:gold nugget gold for the body and cilantro olive green for the background) I glued the golden body of the jaguar with his far legs layered underneath. I glued one side of his ear down, then added a stitch to hold it once it was dry. I gave him a French knot eye with little black stitches on either side to make a cat-eye shape. I used white to make a mouth and black to make a small nose. For the spots, I made the larger ones using a similar technique to the lazy daisy stitch (a loop of thread that is pinned down by a small stitch at the peak) but used arch shapes instead of closed loops. The smaller stitches are just tiny stitches – some with a few close together to make medium spots.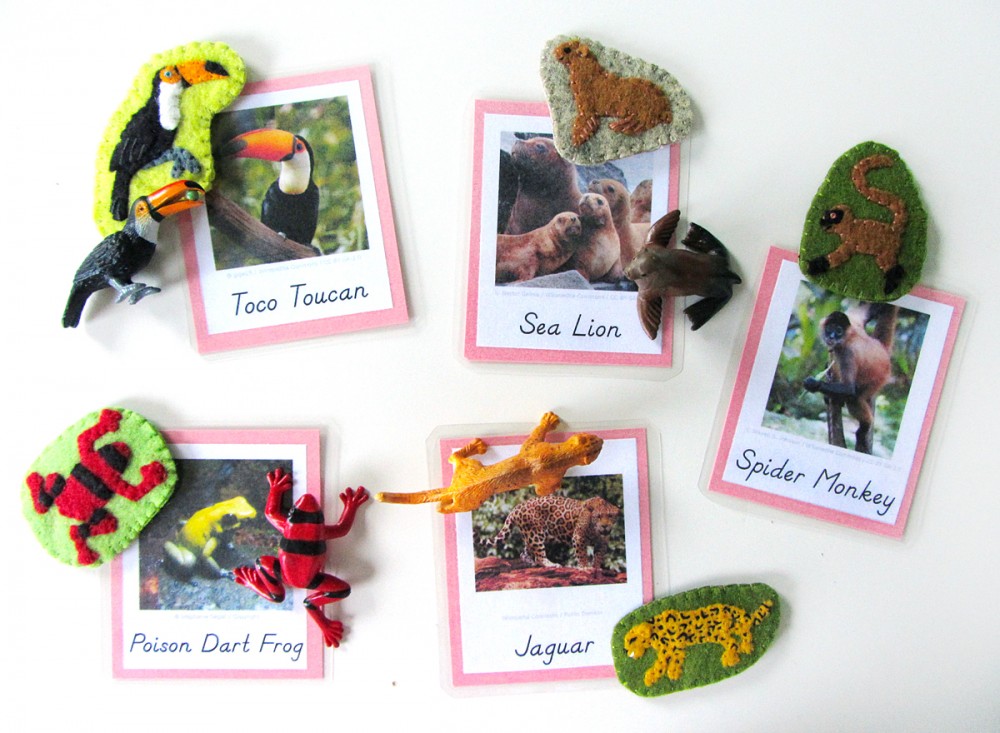 Sea Lion: (Felt used: doe brown for the body and stone taupe for the background) I glued the brown body of the sea lion, then sewed around the edges. I made long stitches on his flippers to show the webbing. I glued one side of his ear down, then added a stitch to hold it once it was dry. I gave him a French knot eye and a little black mouth.

Montessori South American Animals 3-Part Cards
Currently jax is focusing on his world continent 3-part cards, but we've done a small session with each of the animal card sets as I've made them. He sees me making them and insists! We will study the animals with more depth when we focus on a particular continent.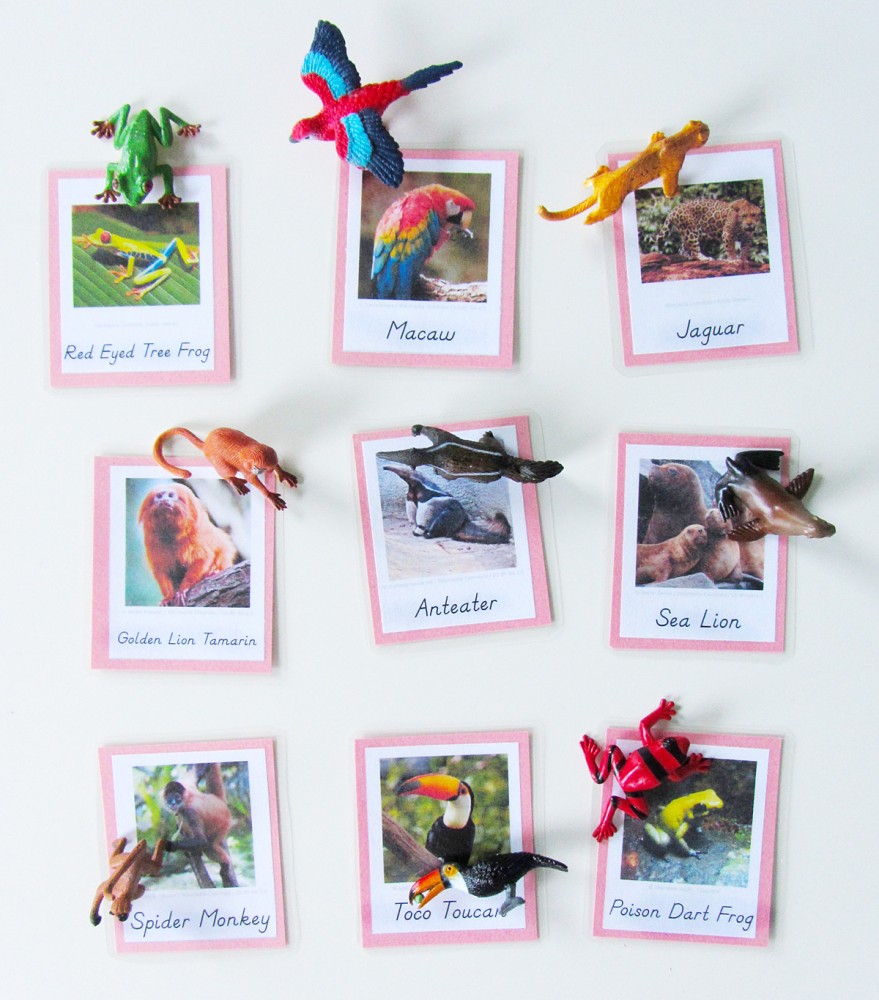 For now, we pull out our SafariLTD's TOOB figurines and use our 3-part cards to match them whenever he shows interest. We like to watch short videos about an animal, then study some pictures and draw our own.
Click here to download my free pdf file to make your own. To make mine, I cut them out, glued them to pink construction paper (to match South America's Montessori color) then laminated them. I love my new laminator
! It makes everything so shiny and strong! I've been giving it a workout!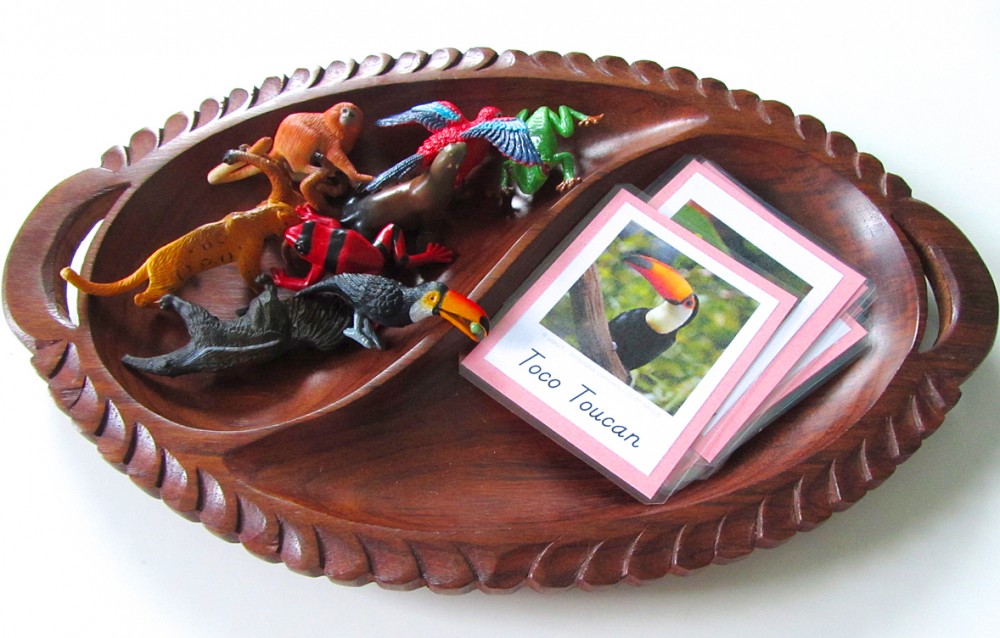 Exploring South America's Animals
I'm still so happy I found my The Encyclopedia of Animals: A Complete Visual Guide
when our basement flooded! (Though I'm less happy that my dining room table is covered in 2′ high piles of books.)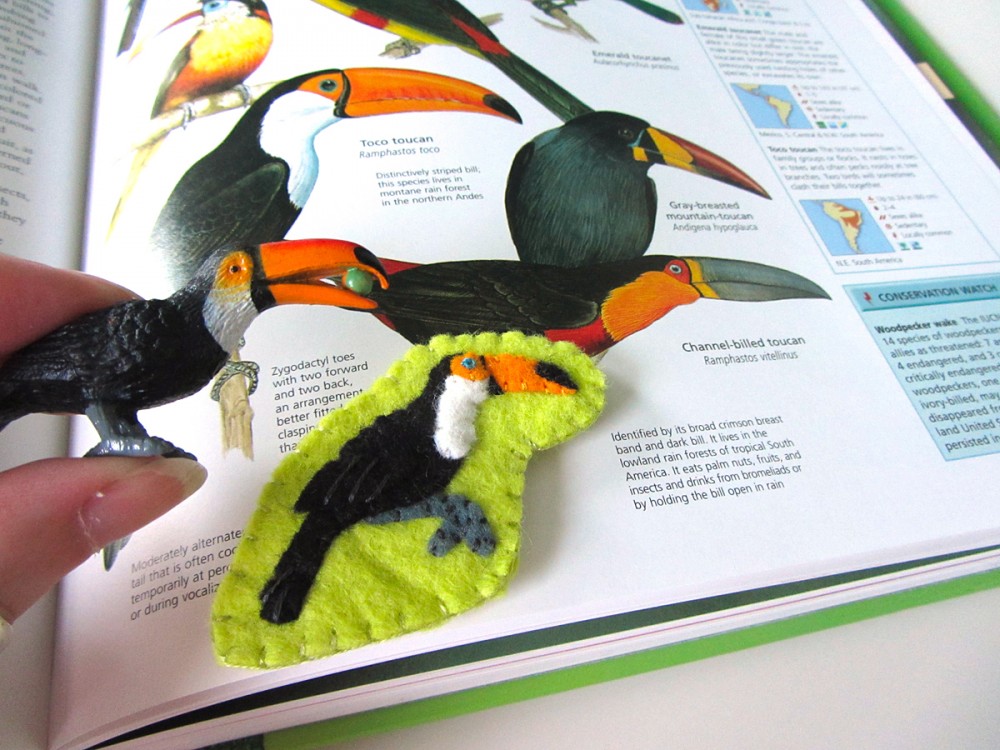 It has a lot of beautiful photos and useful facts about many different animals. Jax and I will be using it to match up with our 3-part cards and read more about the animals. We also use my iPad and YouTube to watch short video clips.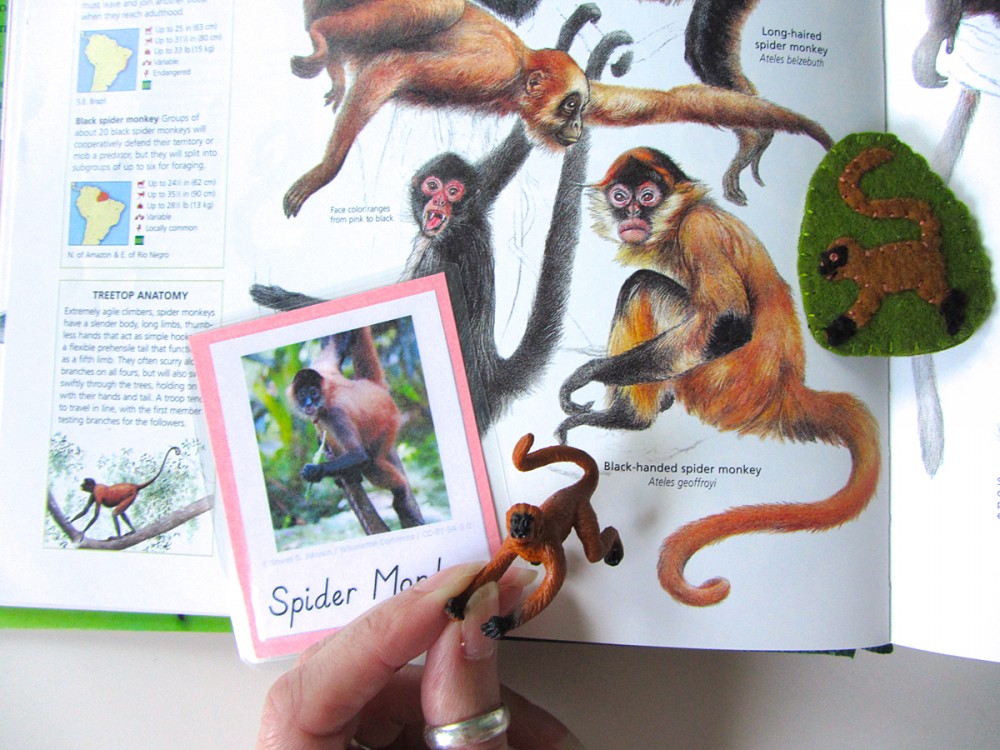 Here we used the encyclopedia to identify which kind of spider monkey we had.
I know many of you are sewing along (or about to!) If you are, stop by my Instagram @iolstephanie and leave a comment on one of my photos (I can't see your photo if it you are private, but I can request to follow you temporarily if you leave a comment on mine about it) or share photos on Facebook. You can also email me. I love seeing others' take on my patterns!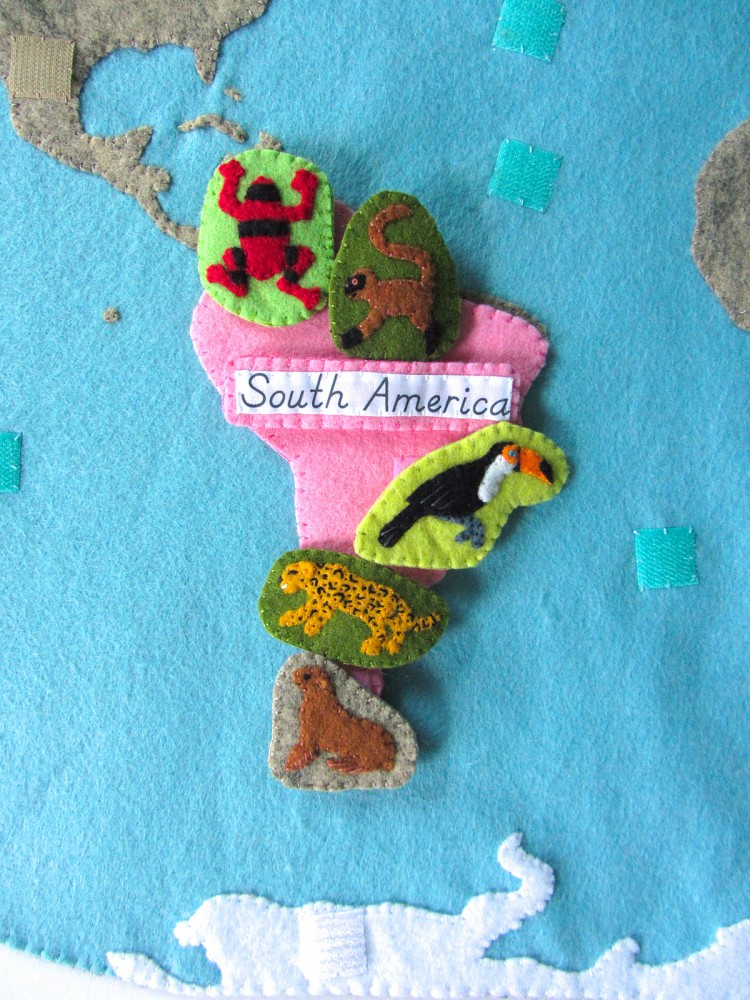 It's not even slightly Montessori Monday still, but I hope you'll check out the other great links!