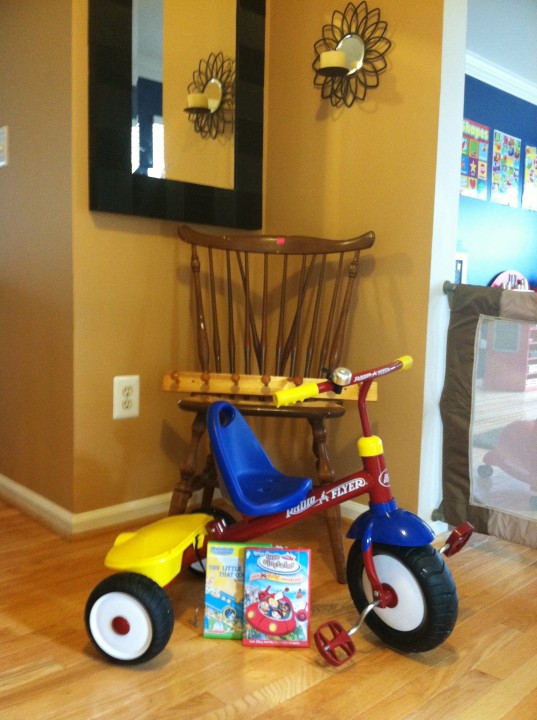 Sometimes I visit the thrift stores because I haven't been there in a while, and other times I feel compelled to. The latter is when I tend to find my best deals!
Yesterday I was compelled to visit all three of the thrift store in the area. They are all run by the same charity: a children's goods store, a clothes and housewares store with an outdoor kid's area and their newest all-around store that has furniture. That new store is difficult to visit with Jax because it has breakables everywhere and a toy section with signs saying not to touch (the opposite of the rules at the kids' store.) I was ready for it, though, with Jax in the stroller with my phone and a bag of crackers.
I go turbo speed through thrift stores with Jax. He isn't very patient when he isn't allowed to "help" and touch. But 5 minutes is plenty when you aren't looking through the clothing racks. I was lucky I'd chose yesterday to visit – they were having a 50% off sale on all furniture that had been there over a week (they date the price tags.) Unlike last visit, they had wooden chairs! I had two choices: there were 2 ladder-back chairs for $9.75 each that just barely made the week cut-off and a lonely Windsor fan-back, brace-back chair for $4 (it has paint stains) that was a couple weeks old. I chose the Windsor due to price ($2!!), comfort and not wanting to break up a matched pair. My grand total at that store was $4 for the chair and a wall hook thing to paint for Jax's big boy room.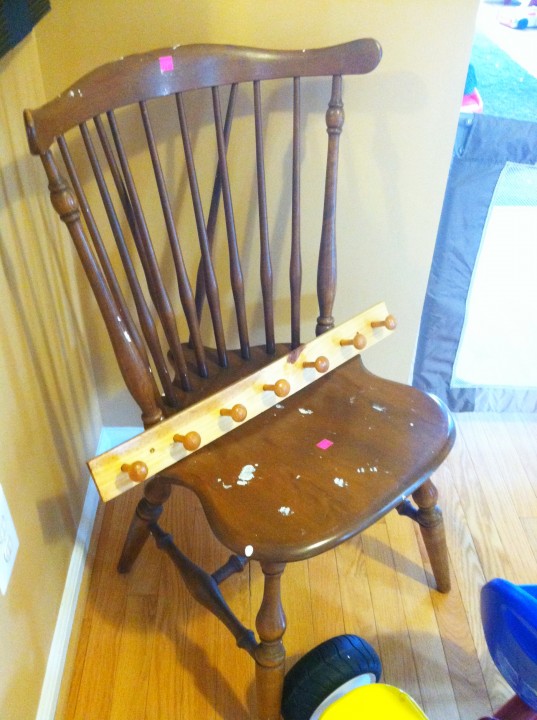 Next stop was the kids store. I normally love it, but it was an hour later than I normally go (and summer), so it was packed with moms and kids. Jax immediately started misbehaving from over-stimulation. I looked super-quickly, bought him 2 dvds
for $4 total, then carried him screaming (him, not me) back to the car. Ugh!
I almost skipped the last stop, but it was only a block away and I've been on the hunt for some large kid items (a push trike and a wooden table). They put their kid items outside by the donation drop off at that location. It is mostly plastic ride-ons and kitchens, a million sit and spins and other plastic flotsam. But, I've found a great wooden fridge there, and I've seen tables in the past.
When we got there, I wasn't impressed. Everything was dirty, broken plastic. But I let Jax explore the heap for a while. A woman pulled up in her minivan while he was playing and handed two Radio Flyer trikes
to the donation volunteer. He walked them right over to the toy pile while she drove away. They were both pretty much perfect – just lacking the push handles for the back! I figured if it cost less than $10 I'd get it, as I know Radio Flyer is good about stocking replacement parts.
We carried it inside and before I could even ask the price, They said, "$3!" Say what?! Sold! Jax sat on it ringing the bell as I paid. He had fun riding it with his daddy later that evening but he gets a little frustrated after a while. His legs need to be one inch longer to really make it easy to pedal all the way around. It is super squeaky and needs an oiling. We are looking into the parts needed to add the handle on. Even if it is $20, it is still cheaper than the original $70 price!
I need your help!
I've chosen the wall color and fabric for my craft room. The fabric will be on a bulletin board and I'm purchasing a yellow and white ironing board cover from Etsy. But what color should the chair be? Yellow or coral? Thanks to all who have given opinions already on Facebook! It's such a hard decision! You can't go wrong with a creamy, buttery yellow, but the chair was only $2 – why not go bold and bright with coral?
A quick note: I'm also working hard on my next quiet book page! It has a lot of details, so it is taking a while. Stop by the Facebook page if you'd like to see regular updates. I post photos nearly every day. I also post them to Instagram (username "iolstephanie").