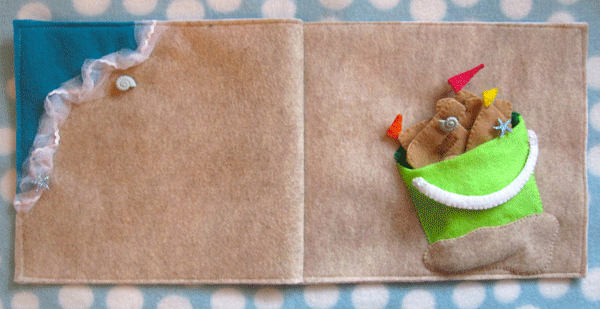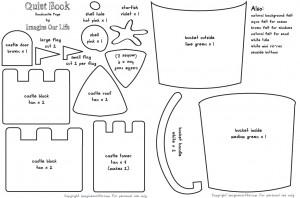 Our latest quiet book page is another beach themed one for our upcoming vacation. Jax is thrilled with it and couldn't wait to try it out. It is a very simple page featuring sandcastle parts you can build into any structure you'd like, then store away in the bucket.
Here is what I used for this page: the pattern, natural-colored background felt, felt (in natural, tan, brown, medium green, lime green, white, aqua, pink, hot pink, violet, orange and yellow), a scrap of white tulle, white mini ric-rac and seaside buttons (from the craft store – left over from my iSpy page.)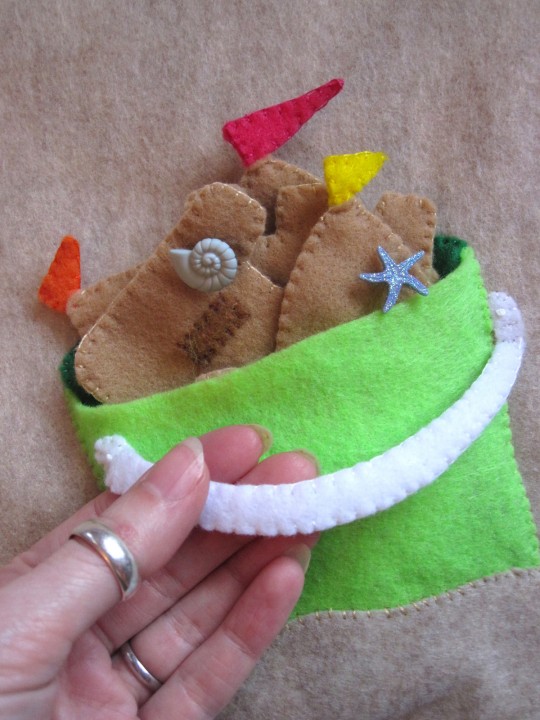 Bucket: Sew the two layers of your handle together. Lay the bucket pieces onto the background and decide how you'd like it to be. I wanted mine to be buried in the sand at an angle. Pin the bottom layer of the bucket to the page, and sew it down across the top. Cut out a scrap of natural felt to be the sand the bucket is buried in and pin it to the top layer of the bucket. Sew across the top of the sand piece to attach it to the bucket front. Pin the bucket front and handle to the page, layering the right side of the handle under all bucket layers. Sew the left side of the handle to the bucket front layer. Sew through both bucket layers down the sides, then sew around the sand on the bottom, making a large pocket that goes from the top of the bucket to the bottom of the sand.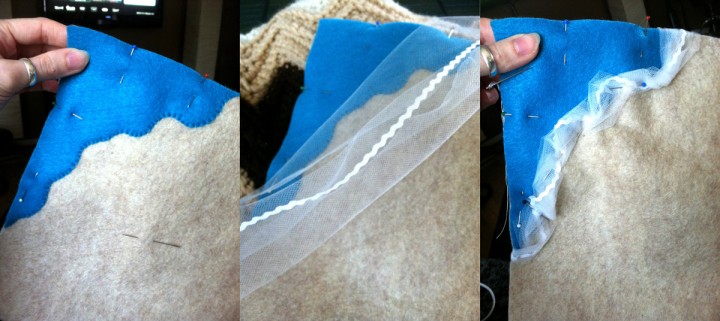 Ocean: Cut a wavy aqua piece of felt to fit in the upper left corner of the left page. Sew it down. Cut a strip of white tulle and a length of white mini ric-rac long enough to follow the ocean's edge. Pin it down to the edge, twisting it randomly along the way. Sew small stitches through both the tulle and the ric-rac – just enough to hold it down but not totally smush it. Add shell and starfish buttons if you'd like.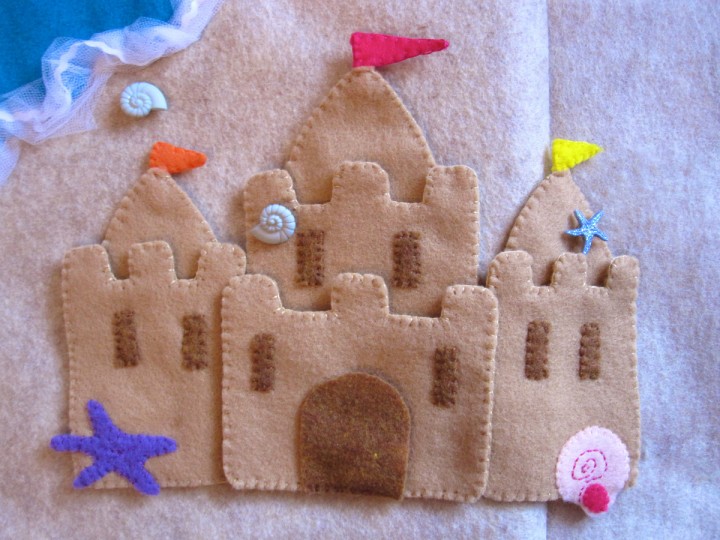 Sandcastle: Cut small brown rectangle to use as windows, and sew them to the fronts of the castle segments. Decorate all the fronts. For the starfish, I sewed it down then added a star burst of straight stitches in the center. For the shell, I stitched a spiral. For the door, I only sewed it down across the bottom, and I added a little crab button underneath. I added some leftover shell buttons to some pieces. Sew all your flags together. Layer them between the roof pieces when you sew the two sides together. Sew all fronts to backs, then you are done!
Jax wouldn't let me put this page away after I showed it to him. He wanted to keep playing with it, and started making castles for his little wooden farm animals. I'd say this page was a success!