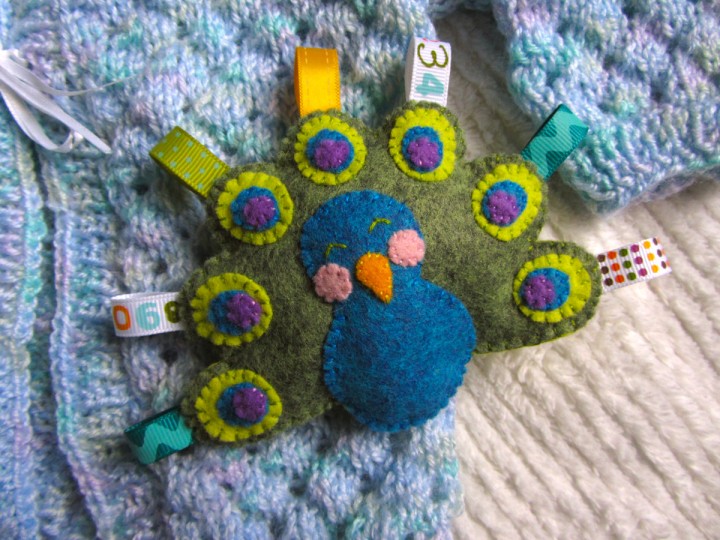 This sweet little guy came about because I needed a gender-neutral baby gift and I wanted to try out some of the new colors of felt available from American Felt & Craft. Plus, it was a great excuse to use some of the cute ribbon scraps I've been collecting. I wanted to choose something that isn't typically made into toys. Owls are SO trendy right now, but it's time to give some other birds a little love! So, allow me to introduce you to Mr Peacock!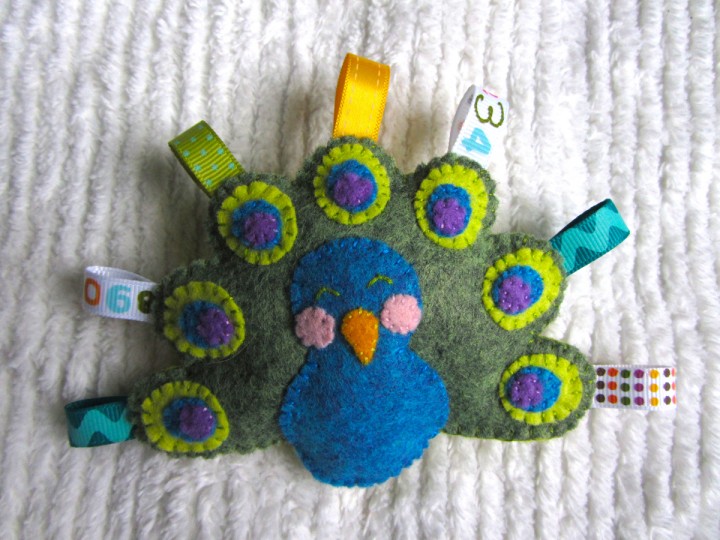 What I Used:
I started this little guy by decorating his body. I sewed his cheeks and beak on and made little eyes by sewing a long stitch then pulling it up into an arch with a tiny little stitch in the middle. I sewed his body to the feather piece with a little bit of batting to make him pop out.
I sewed each of the chartreuse ovals on, catching a loop of ribbon in the stitches of each one. Then I stitched on the aqua ovals and the purple circles.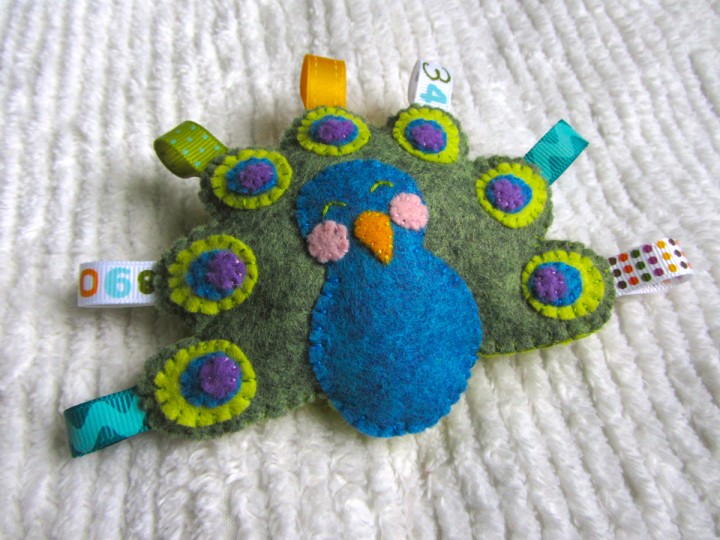 I flipped him over and cut out 2 layers of crinkle material to fit inside him. I traced him, adding about a mm or 2 all around to get my backing piece. The extra space gives more room for stuffing and the rattle. I drew my backing piece up in the pattern, so you could use that if you prefer. I sewed the front and back together with the crinkle material inside, pausing 2/3 of the way around to insert stuffing and the mini rattle (wrapped in some batting.)
All done, and super sweet!
I still have three more Christmas ornaments to share with you this week! Which one should be next? Let me know on our Facebook page.
{ This pattern is free for personal use only. If you would like to purchase a $15 license to sell the finished project in your shop,
go here
. }