I'm not 100% sure which of the ornaments in the series is my favorite, but it just might be this guy! If squirrels ate candy canes I think they'd look just like this.
Mr Squirrel is the third felt holiday ornament pattern in the series of five I designed this year. (You can grab the first two: here and here.) The candy candy stripes turned out to be very simple to do, so he really doesn't take long to sew.
What I Used:
I started by sewing the two sides of his tail together with some batting in between. I didn't bother sewing all the way around, since his tail would be placed between the body pieces.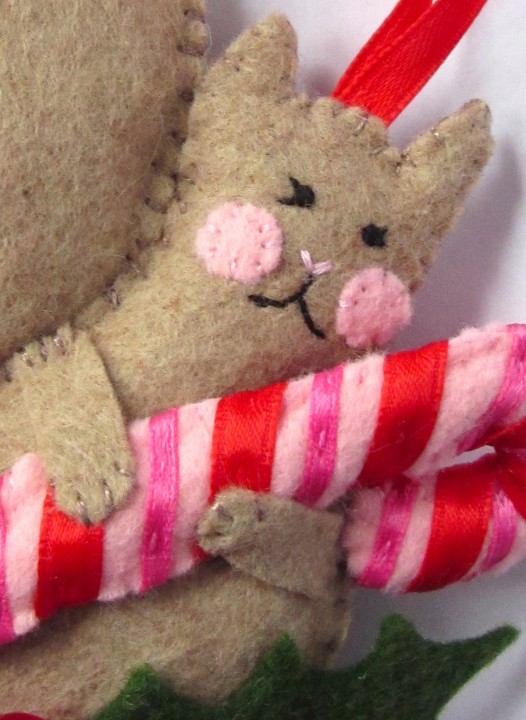 I then embroidered the squirrel's face. I stitched on the felt cheeks, then made his mouth with a black back stitch. His nose is a little V in pink thread. His eyes are French knots with little sideways Vs for eyelashes.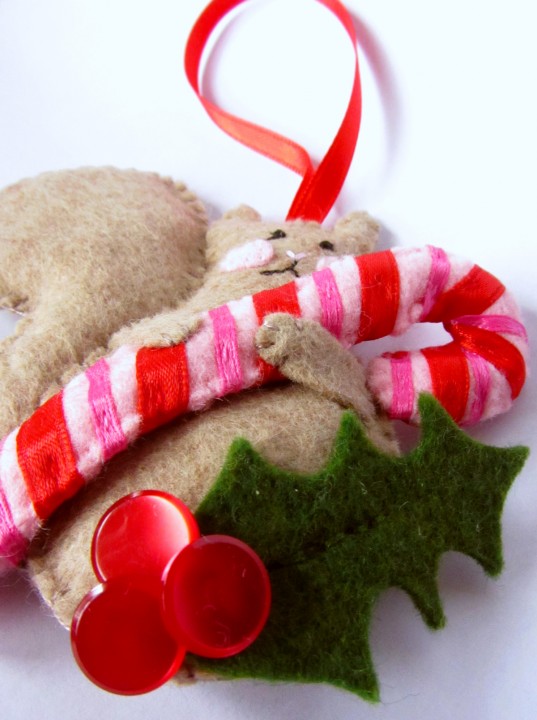 I then pinned the tail in place between the body front and back, along with some batting for the body, and sewing all the way around. To add the holly leaf, I did a line of back stitch (through only the front layer of the squirrel) partway up the center of the leaf. Then I sewed on 3 vintage buttons form my mother's stash. You could sew the leaf and buttons on before sewing the body together if that is easier for you.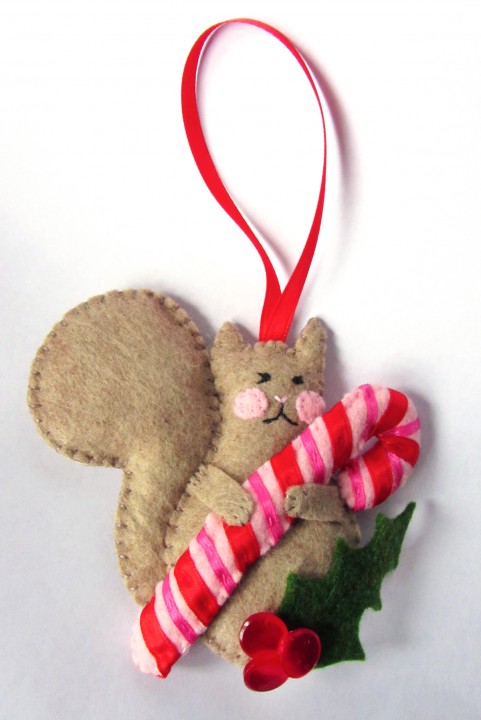 To make the candy cane, I sewed the two sides together with a length of batting twisted up into a long tube inside. Starting with the red ribbon, I folded the end over and made a stitch to secure it to the bottom back of the candy cane. I wrapped it around the cane, doing a basting stitch through the middle of the ribbon in matching thread. When I got to the top, I folded the end under and stitched it to the back. I repeated the process for the pink ribbon.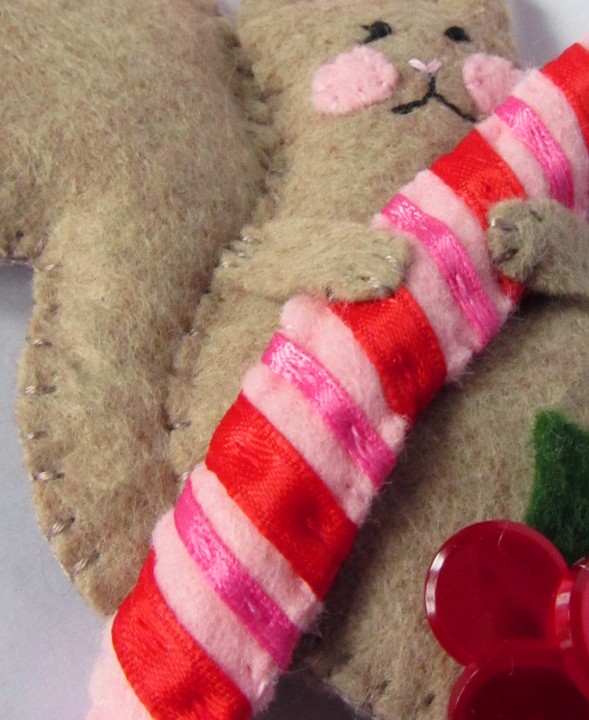 His arms are very simple. I sewed each on to a side of his body, then made 4 little stitches on the paw od each one to attach it to the front layer of the candy cane. They look like little squirrel toenails.
You could definitely make him less girly by changing the candy cane and ribbon colors. He could even hold something different – acorns or a mug of hot cocoa! If you make this or any of the other ornaments, I'd love to see yours! Post them on our Facebook page or email me a photo.
{ This pattern is free for personal use only. If you would like to purchase a $25 license to sell the finished project in your shop, please
email
me. }