Would you like to make and sell items from this pattern? Commercial licenses are available!
Do you have the holiday season on your mind already like I do? You almost have to when you are a crafter, as projects take time to complete.
A while back, I was asked by Nikki of Tikkido to contribute some felt ornaments to an upcoming Christmas e-zine feature. Her theme was very sweet and girly, so I jumped at the chance! Too many of my projects are for boys or gender-neutral. It's nice to use pink every now and then! I've designed 5 hand-sewn felt ornament patterns and I'll be sharing them with you over the next few days.
Today's pattern is a sweet pink gingerbread house. I adore how it turn out! You could very easily change the colors and embellishments to customize this pattern for your tree.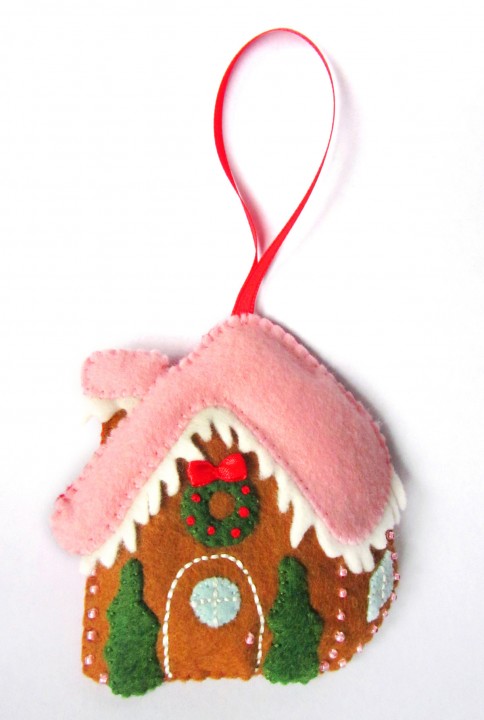 What I used:
I started by laying the icicles in place on the house front under the roof and chimney top pieces. Then I sewed the roof and chimney top down, leaving the icicles hanging loose.
I normally use two strands of embroidery floss while sewing with felt, but I used four strands of white to make a back-stitched arch to form the door. I sewed down the two windows and again used 4 strands of white to back stitch the window panes.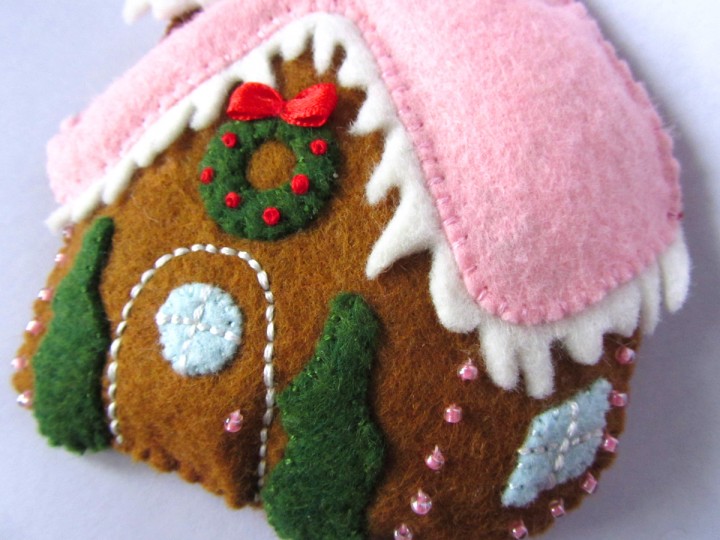 I sewed down the two trees and the wreath next. I used four strands of red floss to make French knot berries on the wreath. You could also use seed beads. I took a little scrap of red ribbon and folded both ends in to the center to make a bow shape. I made a stitch to hold it together then flipped it over and placed it on the wreath. I sewed it down at the center while cinching the middle of the bow.
Using a beading needle and one strand of thread, I sewed on lines of seed beads (going twice through each bead for strength.)
Once the front of the ornament was decorated, I cut out a matching back in red felt and started sewing the sides together. I added a loop of ribbon as I sewed across the top. When I was halfway around, I added some batting to the ornament to give it dimension. Once I sewed it closed, it was ready to hang! (For tips on sewing around felt edges, see my blanket stitch tutoral.)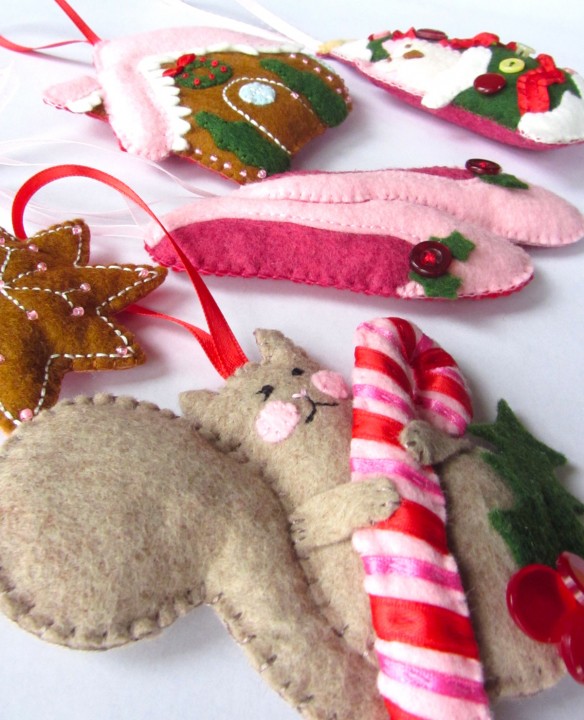 Visit often this week to collect all five of my holiday felt ornament patterns! Which is your favorite?
{ This pattern is free for personal use only. If you would like to purchase a $25 license to sell the finished project in your shop, please
email
me. }