I've been doing a lot of DIY and redecorating lately. Jax has begun sleeping in his big boy room at last and has earned a new mural. At the same time, I'd starting thinking a lot about our homeschool space. It was bright and beautiful, but as Jax (and our school supply collection) has grown, it has begun to feel cramped. We were also running into problems with the school room being upstairs off the master bedroom (his old nursery.) I needed to be downstairs to do my freelance work, and Jax has wanted increasingly more time for school work.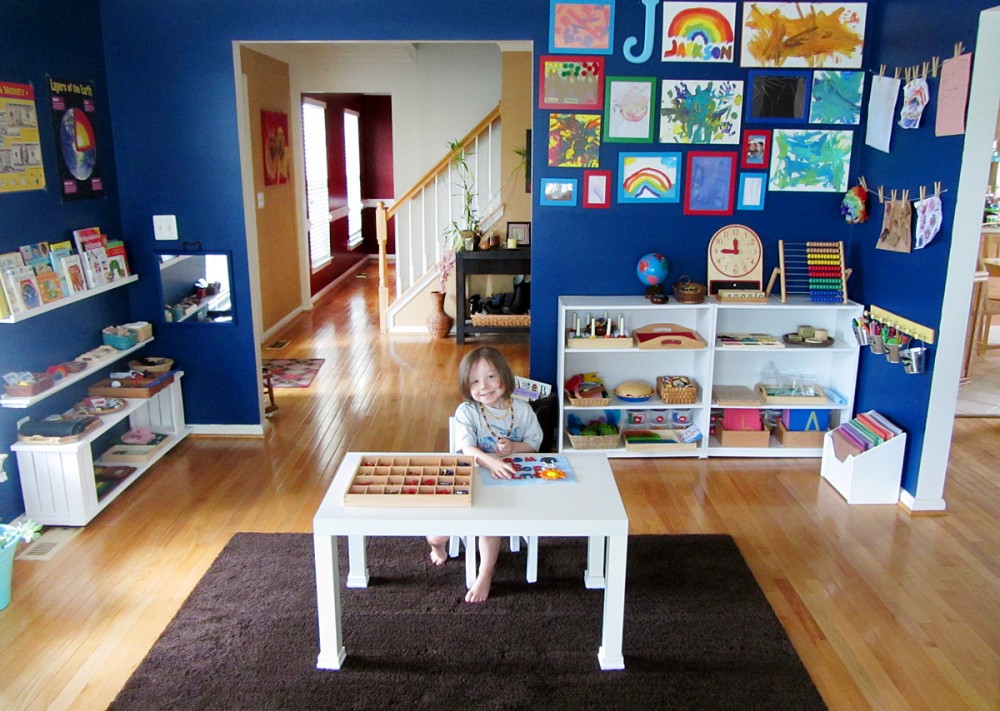 The best solution? Moving the schoolroom down to half of the playroom! The playroom is the front room of our main living area. I suppose it is intended to be a formal living room. We have no need for two living rooms – the "den" area off the kitchen is plenty! By moving just a few things out of the playroom and adding storage, I knew the school room would work great there.
We have also been busy dealing with medial issues. Poor Jax had the bad luck of contracting Lyme Disease from his very first tick bite. We caught it super early and will have a near 100% chance of a full recovery with his month of antibiotics. It has been a rough time, with Jax having a bad reaction to Amoxicillin and having to switch to a new (more disgusting) medicine. We are in the home stretch, and so grateful for all your kind words and suggestions!
Would you like a little tour of our new learning space?
If you follow me on Instagram, you may have often seen pictures of the old room. I really love that room, but it was so small that half of the floor would end up covered by supplies. We can finally stretch out and breathe!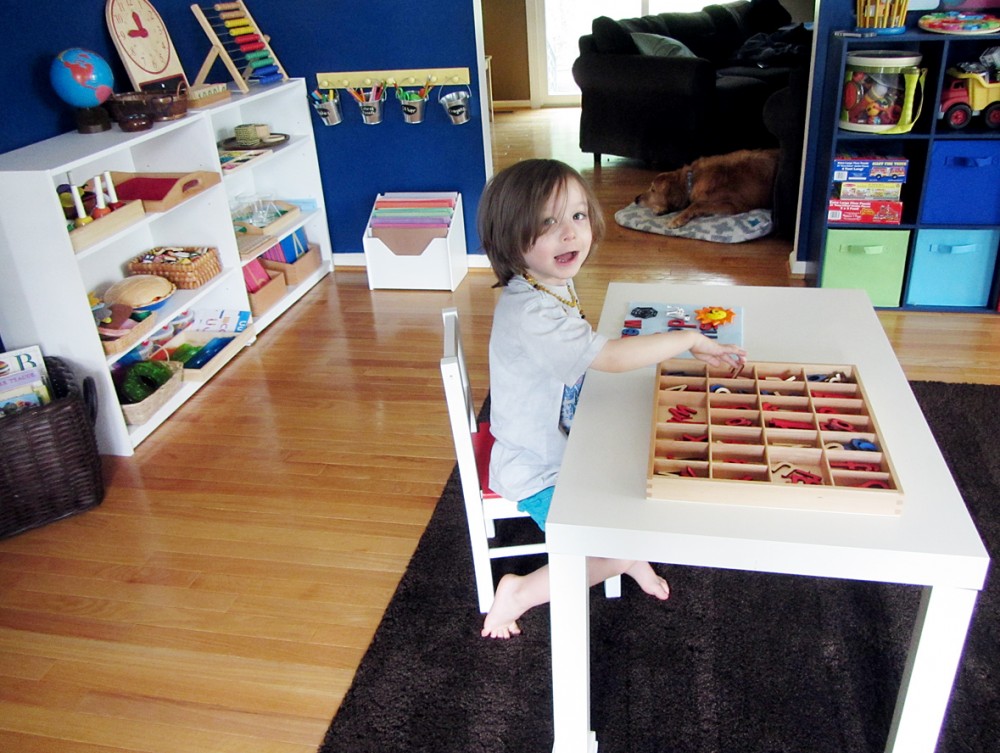 I started by moving Jax's hand-me-down playgym outside so the room felt more open. I also took his old plastic table out of the room. The thrifted Ikea coffee table we'd been doing schoolwork on was working really well, with one exception – it was getting too short! After a trip to the hardware store for some square wooden medallions, I quickly made it taller. We had a little chair from the thrift shop that had a lot of water damage and was close to falling apart. I tightened it up, glued some broken bits and gave it a paint job.
From Walmart, we purchased two $17.99 white shelves. They are certainly not the best quality, but they are surprisingly nice for $18 each. One had a warped side board, but some tweaking and shim under one edge has them sitting flush together.
On the side wall, we already had two Ikea picture shelves that were were using to hold books. I placed the DIY shelves (painted boards on wood crates) from the old school room underneath. Then I painted a narrower scrap board and used it to widen the bottom book rack into a thin shelf. This makes a perfect shelf for smaller baskets and activities. I put the extra books in a basket.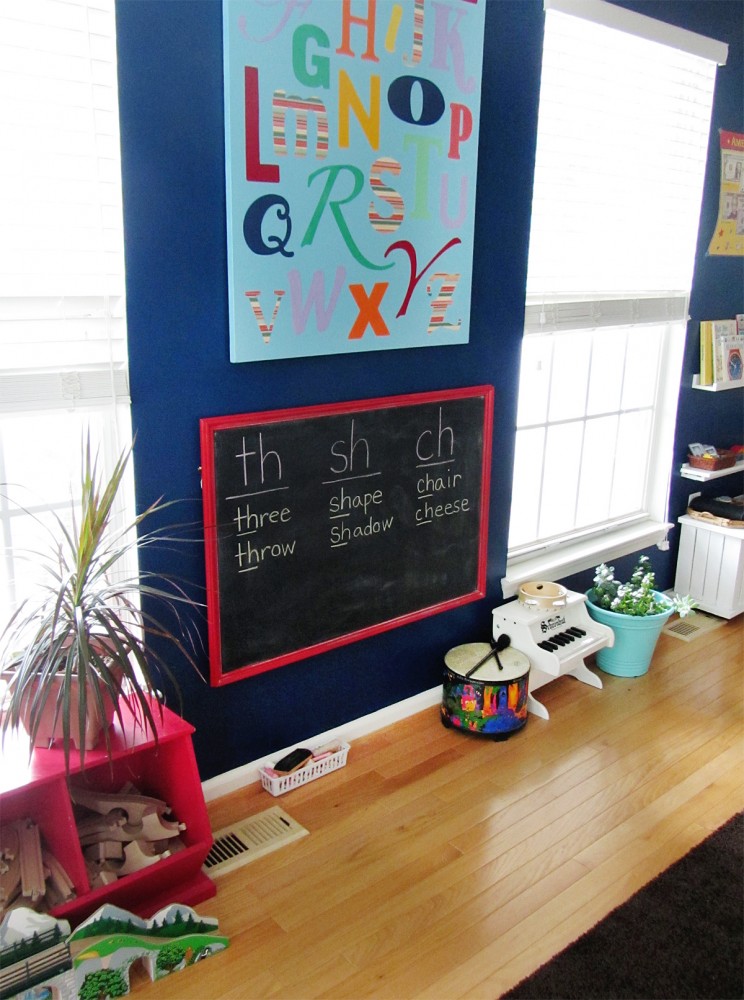 I needed to move our DIY chalkboard to have room for the new shelves, so that went between the windows on the side wall. I'm not in love with that area yet, but it is bright and functional.
On Our Homeschool Shelves
I don't have any big study units going on right now, but let me show you around what is on our shelves.
Starting with the left side of the shelves, we have Jax's small movable alphabet
, montessori globe
, wooden shape lacing (Target Dollar Spot), and some glass bead spacers (Dollar Tree). Below that, we have our handbells
and felt notes and a wooden tray (craft store) filled with sand. One the middle shelf, we have all the body organs and labels for Jax's human body chart
, his sorting fruit pie and a basket of magnets (a placeholder for now). On the bottom shelf, we have our letter construction set
, spread out for now.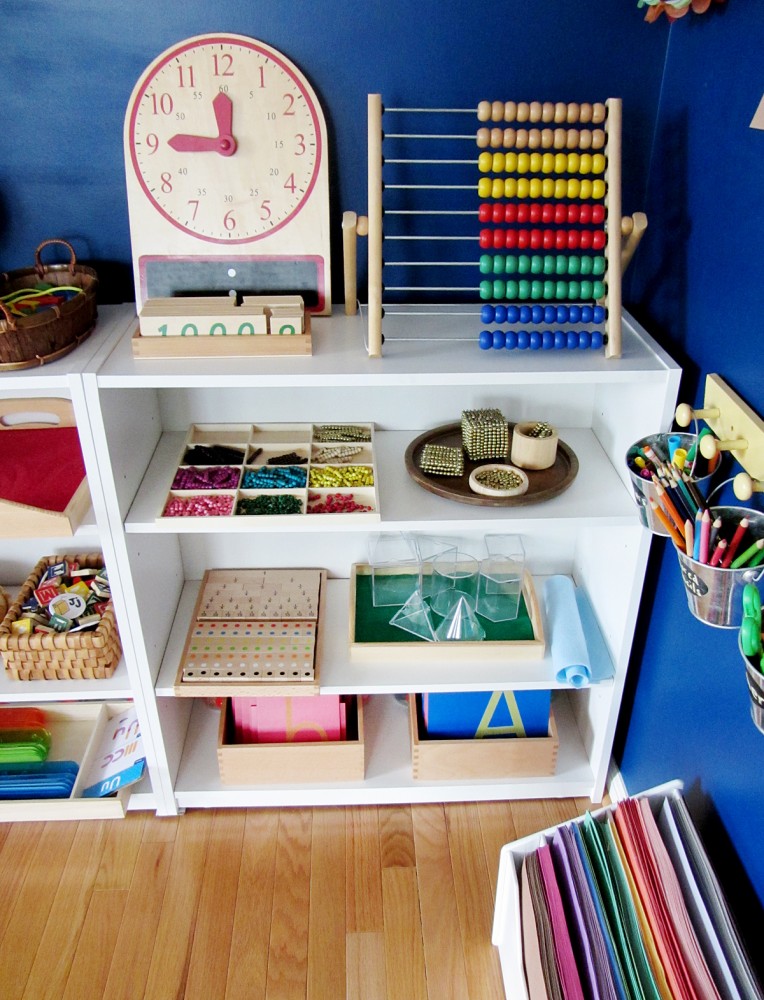 One the right shelf, I have a thrifted wooden clock board, a thrifted Ikea abacus and our small wooden number cards
. Below that, I have all our DIY math beads (still in progress). On the middle shelf, I have Jax's math block set
, geometric shapes
and some felt sheets to use as work mats. On the back of the bottom shelf I have our letter sounds tubs
. In front, there are our lowercase
and uppercase sandpaper letters.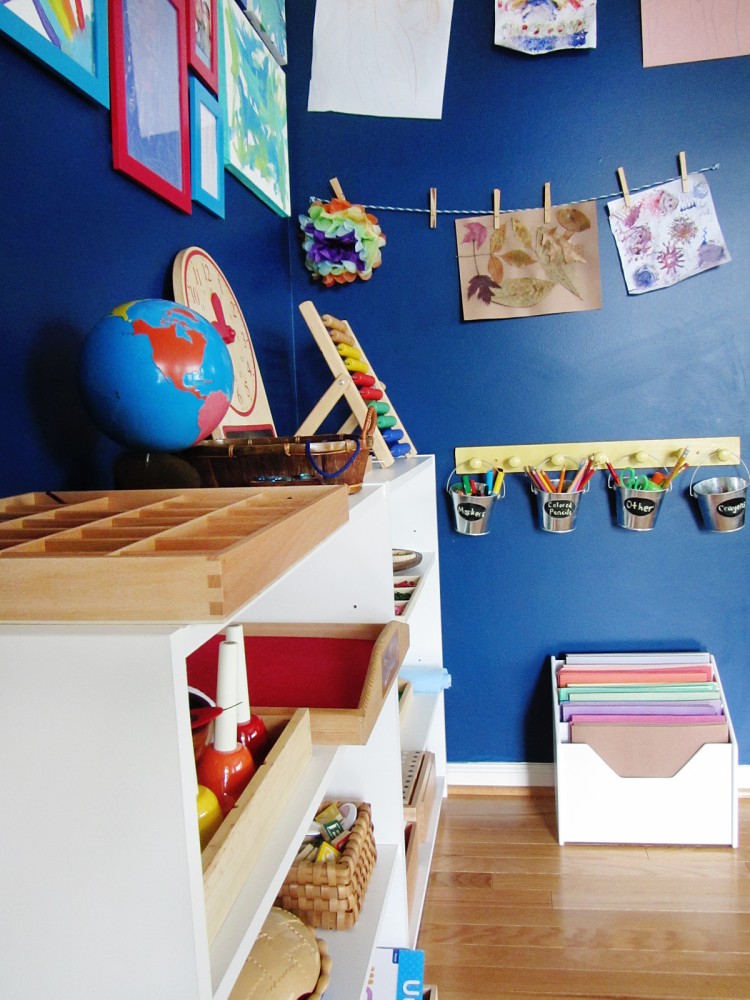 To the side, I have our hanging picture line,. I also hung a thrifted peg hanger with chalkboard tin buckets full of art supplies (Target Dollar Spot). On the floor, I have a thrifted paper holder (Container Store brand) with construction paper (also thrifted!)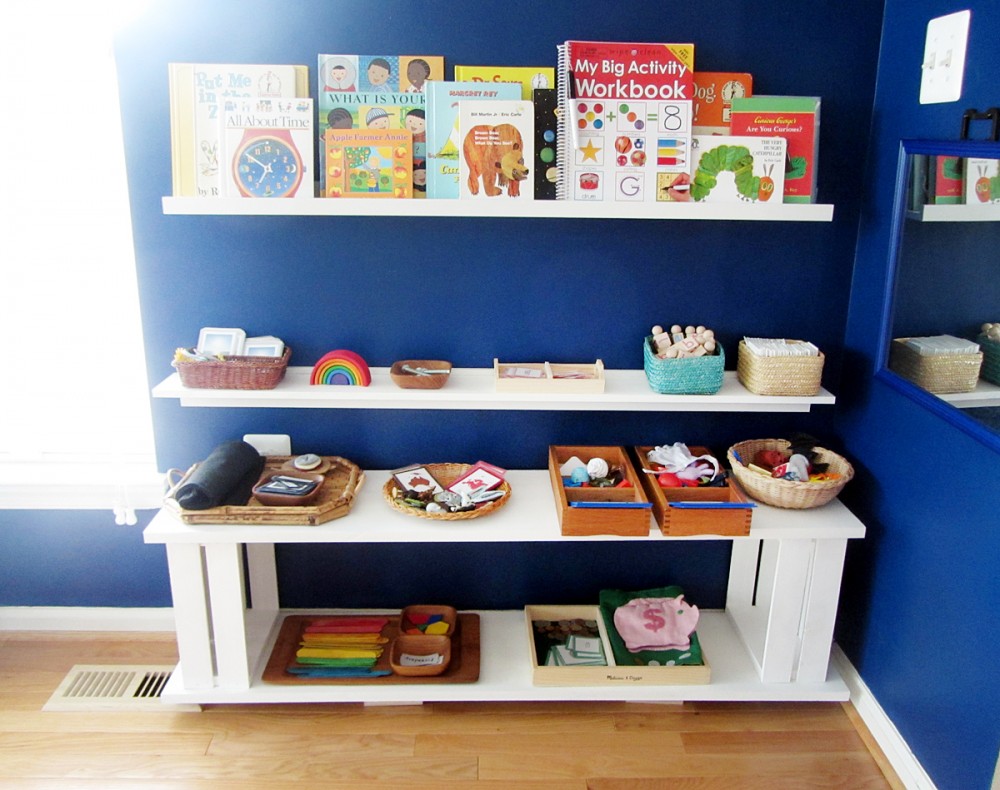 On the side wall, I have books on the top shelf. Below that, I have our weather materials, a wooden rainbow
, some CVC matching cards, our word spinners and our DIY color tablets. On the top large shelf, I have our solar system works (to coordinate with out Air & Space museum trip), some of our continent animals, two starting sounds matching trays (using sandpaper letters and starting sound objects) and a basket of CVC objects. On the bottom shelf, I have some colored craft sticks with shapes
(thrifted) to make and label, as well as our piggy bank activity.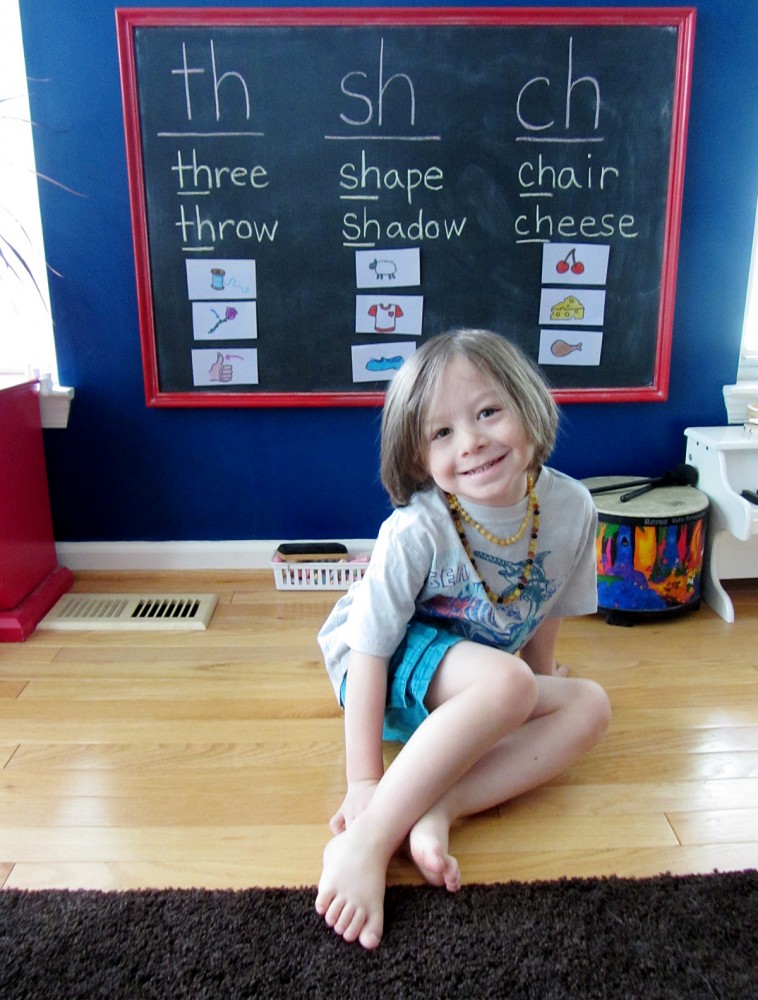 To the left of those shelves, I have Jax's chalkboard, some musical instruments and classroom plants. I don't have a chalk holder figured out yet, but no rush!
What do you think of our new classroom? Do you have any suggestions for us? Jax adores it, and loves having access to all the item's I'd had stored in the closet. It is so nice to spread out!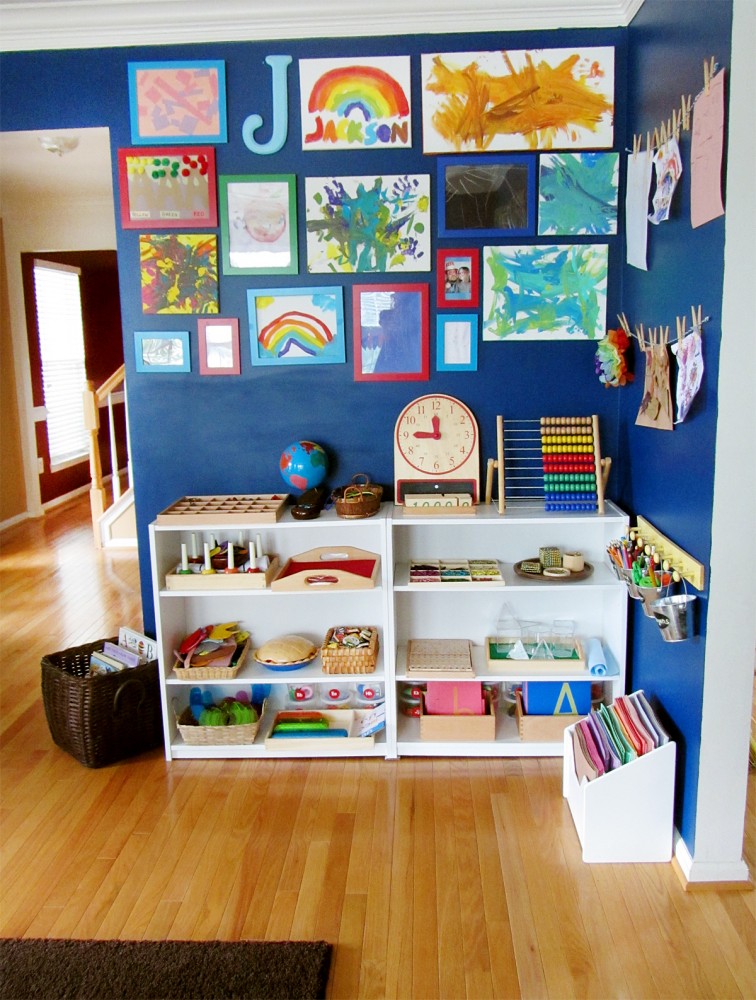 For more homeschool ideas, visit Montessori Monday at Living Montessori Now.