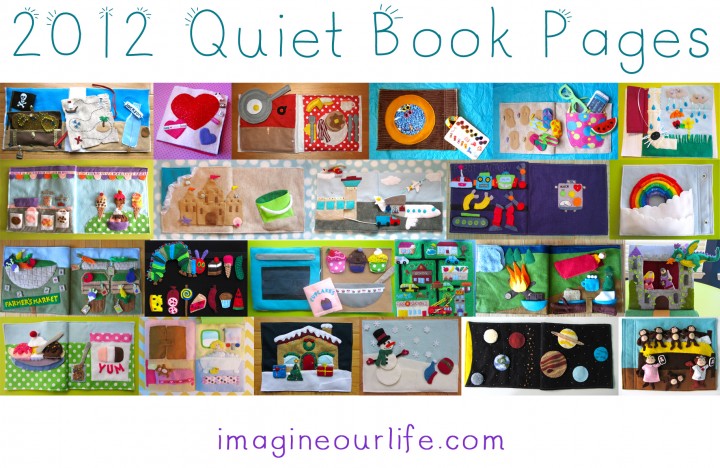 Happy new year! 2012 was a busy year of sewing for me! I made about 24 quiet book spreads, two of which were little books on their own, one was on a felt board with a carrying case. I also sewed many fun projects that weren't quiet books, like ornaments, baby toys and even a stuffed pony!
With a new year beginning, it's fun to look back on the pages I made and shared with you, as I did last year.
Current Top 5
10 Most Popular Ever
10 Most Popular from 2012
Overall, I've shared 43 quiet book patterns with you since I started sewing them in September of 2011. Wow! You can check them all out here.
Click a thumbnail to visit a post:
I'm always taking suggestions for new page ideas. Join our Facebook page, or leave a comment here! Big thank yous to American Felt and Craft for supplying felt for many of my recent creations! Their wool blend felt is just so nice to work with.
Jax is growing up (he'll be 3 in February!) but he hasn't outgrown quiet books. I definitely see myself designing more on more advanced topics, though. He really loves the solar system I completed recently. Regardless, I've developed a passion for sewing and designing in felt, so I won't be stopping any time soon!

(By the way, the font used here is one I created.
Grab it free here!
)